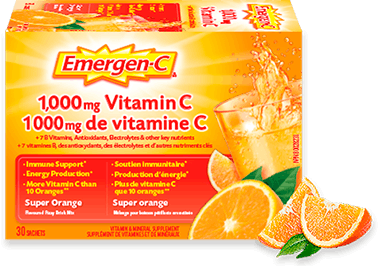 With more Vitamin C than 10 oranges*** and naturally sourced flavours, you'll want to try this Super flavour before someone turns it into a movie.


IMMUNITY
Helps maintain immune function and overall good health.

ENERGY PRODUCTION
Helps support energy production.

ELECTROLYTES
Helps to maintain normal electrolyte balance with key electrolytes (potassium, magnesium).
(Adults): Take 1 packet 1 time per day. Place contents of packet in glass, add 4-6 oz (120-180 mL) of water and stir. Take with food a few hours before or after taking other medications or natural health products. Consult with a health care practitioner for use beyond 6 months.

Medicinal Ingredients Per Packet (9.1 g)

Vitamin C (ascorbic acid, zinc ascorbate)1,000 mg

Vitamin B1 (thiamine hydrochloride)0.38 mg

Riboflavin (riboflavin 5'-phosphate sodium)0.43 mg

Niacin (nicotinic acid)4 mg

Vitamin B6 (pyridoxine hydrochloride)10 mg

Folate (folic acid)100 mcg

Vitamin B12 (cyanocobalamin)25 mcg

Pantothenic Acid (calcium d-pantothenate)2.5 mg

Calcium (calcium carbonate, calcium phosphate [monobasic, tribasic])50 mg

Phosphorus (potassium phosphate [monobasic], calcium phosphate [monobasic, tribasic] sodium phosphate [monobasic])38 mg

Magnesium (magnesium hydroxide, magnesium carbonate)60 mg

Zinc (zinc ascorbate)2 mg

Manganese (manganese gluconate)0.5 mg

Chromium (chromium picolinate)10 mcg

Potassium (potassium bicarbonate, potassium carbonate, potassium phosphate [monobasic])194 mg


Acacia gum, ascorbic acid, aspartic acid, beta carotene, citric acid, corn starch, corn oil, dl-α-Tocopherol, fructose, glycine, malic acid, maltodextrin, modified food starch, natural flavours, silica, sodium ascorbate, sodium bicarbonate, tapioca, tartaric acid, trisodium citrate, vegetable oil.

See product package for full product information.
NOT WHAT YOU WERE LOOKING FOR?
We recommend: