Emergen-C
Immune+ Raspberry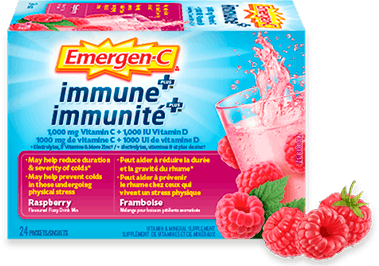 When it comes to maintaining your immune function, more like rad berry, am I right?


IMMUNITY (PREVENTION)

May help prevent colds in those undergoing physical stress.


IMMUNITY (DURATION)

May help provide a modest reduction in duration and severity of colds when taken regularly.


VITAMIN D

Helps ensure you get your daily dose even if the sun isn't shining.

(Adults): Take 1 packet 1 time per day. Place contents of packet in glass, add 4-6 oz (120-180 mL) of water and stir. Take with food a few hours before or after taking other medications or natural health products. Consult with a health care practitioner for use beyond 6 months. Use for a minimum of 2 weeks to see beneficial effects (for cold prevention/reduction). Drink it cold or try it warm!


Medicinal Ingredients Per Packet (9.2 g)

Vitamin C (ascorbic acid,zinc ascorbate)1,000 mg

Vitamin D3 (cholecalciferol)25 mcg/1,000 IU

Vitamin B1 (thiamine hydrochloride)0.38 mg

Riboflavin (riboflavin 5'-phosphate sodium)0.43 mg

Niacin (nicotinic acid)4 mg

Vitamin B6 (pyridoxine hydrochloride)10 mg

Folate (folic acid)100 mcg

Vitamin B12 (cyanocobalamin)25 mcg

Pantothenic Acid (calcium d-pantothenate)2.5 mg

Calcium (calcium carbonate, calcium phosphate [monobasic, tribasic])50 mg

Magnesium (magnesium carbonate, magnesium hydroxide)60 mg

Zinc (zinc ascorbate)10 mg

Manganese (manganese gluconate)0.5 mg

Chromium (chromium picolinate)10 mcg


Ascorbic acid, acacia, arabinogalactan, aspartic acid, beet juice concentrate, caramel, citric acid, corn starch, dl-a-Tocopherol, D-fructose, evaporated cane juice, flavours, glycine, malic acid, maltodextrin, medium chain triglycerides, modified food starch, potassium bicarbonate, potassium carbonate, potassium phosphate (monobasic), silicon dioxide, sodium ascorbate, sodium bicarbonate, sodium phosphate (monobasic), stevia leaf extract, sucrose, tapioca, tartaric acid, tricalcium phosphate, trisodium citrate, yeast extract, water.

See product package for full product information.
NOT WHAT YOU WERE LOOKING FOR?
We recommend: