Emergen-C
Energy+ Blueberry-Acai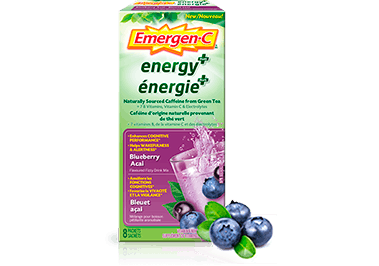 A berry-licious boost of naturally sourced Caffeine from Green Tea provides a kick of energy** you didn't see coming.


COGNITIVE PERFORMANCE

Helps enhance cognitive function.


WAKEFULNESS

Temporarily promotes alertness and wakefulness.


ENDURANCE

Helps to temporarily relieve fatigue, promote endurance, and enhance motor performance.

(Adults): Take 1 packet 2 times a day or 2 packets at once. For maximum energy, take 2 packets at one time. For moderate energy, take 1 packet as needed twice a day. Do not exceed 2 packets per day. Take with food a few hours before or after taking other medications or natural health products. Place contents of packet in glass, add 120-180 mL (4-6 oz) of water and stir.


Medicinal Ingredients Per Packet (9.4 g)

Vitamin C (ascorbic acid)250 mg

Vitamin B1 (thiamine, thiamine hydrochloride)0.38 mg

Vitamin B2 (riboflavin)0.43 mg

Niacin4 mg

Vitamin B6 (pyridoxine hydrochloride)10 mg

Folate (folic acid)100 mcg

Vitamin B12 (cyanocobalamin)25 mcg

Pantothenic Acid (calcium d-pantothenate)2.5 mg

Calcium (calcium carbonate, calcium phosphate [monobasic], calcium d-pantothenate)48 mg

Phosphorus (sodium phosphate [monobasic], calcium phosphate [monobasic])15.63 mg

Magnesium (magnesium hydroxide, magnesium carbonate)55 mg

Potassium (potassium bicarbonate)100 mg

Caffeine (1,3,7-Trimethylxanthine)50 mg



Citric acid, d-fructose, dl-malic acid, flavour, fruit and vegetable blend, maltodextrin, modified food starch, rebaudioside A, silicon dioxide, sodium bicarbonate, sodium citrate.

NOT WHAT YOU WERE LOOKING FOR?
We recommend: